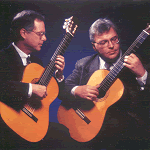 Frank Koonce is internationally acclaimed as a performer, teacher, and writer. He holds degrees from the North Carolina School of the Arts and from Southern Methodist University, studying first with Jesus Silva and then with Robert Guthrie. In 1974-75, he was a Fulbright Scholar and performer in Italy where he studied with Sergio Notaro and Alirio Diaz.

Mr. Koonce's creative output includes an authoritative guitar edition of Johann Sebastian Bach's complete solo lute works (Kjos Music) and many other editions with Mel Bay Publications and Productions d'Oz. He made the world-premiere recording in English of Mario Castelnuovo-Tedesco's "Platero and I" for narrator and guitar (Summit, DCD 1002) followed by another version in Spanish (Soundset, SR1026) and a DVD animated video made in Spain (Cuentos Musicales). He also recorded an album entitled "A Southwest Christmas" with the Phoenix Bach Choir (Soundset, SR 1005) and is featured in a live concert video with the renowned composer/guitarist, Nikita Koshkin (Mel Bay 99231VX). As a founding partner of Soundset Recordings he has produced and co-produced other classical compact discs, including a premiere recording of orchestral works by Alan Hovhaness, which was part of the soundtrack for Paramount's award-winning film "There Will Be Blood."

A Professor of Music, Frank Koonce directed the guitar program at Arizona State University from 1978-2018. He was Director of "Guitar Festival 1987" an international event jointly sponsored by the Guitar Foundation of America and the American String Teachers Association, and later served as Chair the GFA Advisory Board. As a performer, he has recitals to his credit in England, Korea, Macedonia, Taiwan, China, Bangladesh, Costa Rica, Mexico, Spain, The Czech Republic, Austria, and throughout the United States.
Links
Media